Tassano Consortium, featured on May 24, 2017 in the Side Event on Public Private Interfaces Forum on Financing for Development, United Nations
by Joe Klock, New Humanity - USA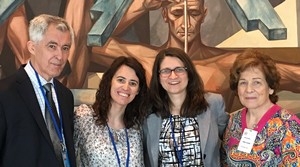 On May 24, 2017, Feast of Our Lady Help of Christians, at the United Nations in New York, New Humanity presented an Economy of Communion story about the Roberto Tassano Consortium, a social enterprise working in and around Genoa, Italy. During a 4 day UN conference entitled the Financing for Development Forum, participants explored ways for governments to raise the funds necessary for development in line with the 2030 Sustainable Development Goals.
As part of the official program, several civil society organizations held a workshop on Public Private
Interfaces with about 40 attendees. Several speakers expressed grave concerns about the privatization of public services such as healthcare and education because of inefficiencies and even abuses that they have experienced in places like sub-Saharan Africa.
The story of the Economy of Communion, Italian social cooperatives, and specifically, the Tassano Consortium showed that public private partnerships can serve the public well if the people in both the public and private entities have the common good of the people they serve at heart. While New Humanity's presentation seemed somewhat contrarian to the fear of privatization, the expert speakers and audience responded well to the story about the Economy of Communion and the Tassano Cooperative. At the end, the chairperson of the NGO Committee on Financing for Development requested a repeat of the presentation at a future full committee meeting so that more people could hear this positive example of how public-private partnerships can work to serve humanity together.