IRISH volunteers who recently built a milking parlour in Africa are calling on Irish farmers to give the project an extra helping hand by donating farm equipment.
by Claire Fox
published in Independent.ie on February 23,2018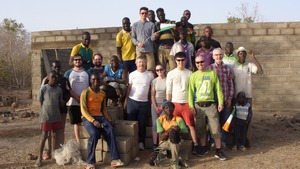 Paul Connolly, who is an optometrist in Cavan town, was part of a team of eight who travelled to Burkina Faso in West Africa in late December to build a milking parlour at the Complexe Agricole Temuwe farm school.
The seeds of the project began when Paul joined the Economy of Communion, which is an organisation that allows businesses help projects in developing countries. Four years ago Paul met Fr Expedit Gnoumou who told him about efforts being made in Burkina Faso to develop a farm school.
"I met Fr Gnoumou and he told me about the work that was being done at a farm school over there. He told me that farming was very old-fashioned and traditional over there and that people looked down on it," says Paul.
"This stuck with me as farming was like that in Ireland in the past. I could see that he was really eager about the project and that made me want to get involved."
Paul Connolly and the group of volunteers from Cavan, Meath and Dublin, including farmer and builder, Kevin Costello, spent seven out of their 10 days in Africa building the five-unit milking parlour with a local team.
"It was great we had Kevin because he knew what he was doing. The local lads were very strong. Without them we wouldn't have had a hope of getting it done so fast," says Paul.
"They looked after us so well there too, for a country that's the second poorest in the world they were great to keep the food coming for us."
While mining is the most popular trade in the west African country, Paul is hopeful that the milking parlour will encourage more young people to get into farming there.
"They've had two intakes of students in the school already so the demand is there and it has chickens and pigs too. In the long-term this will benefit everyone and make people more self-sufficient," he adds.
Paul and the volunteers hope to send a cargo shipment of equipment for the farm in the coming months, but can only do this with the help of Irish farmers.
"We're now asking Irish farmers to donate any unused milking equipment they might have lying around or any used farm equipment that might be in good condition to the project," says Paul.
"Even ploughs or anything that can be attached to a tractor would be helpful, as they have one tractor but nothing to attach to it."
Farmers interested in donating to the project should call Paul on +353 087 9356756.
---
Editors note: Irish Independent, is the largest Irish national paper. Since now Irish EoC volunteers have been offered a tractor, a plough, cultivating equipment and many milking machines. Looks like they will be able to fill a container soon and ship it to Ghana for transport to Burkina Faso.