In Sao Paulo, in Mariapolis Ginetta, Luigino Bruni opens the International Assembly in front of 650 participants coming from 40 countries. We publish here the full text of his intervention.
Here we are where it all began
By Luigino Bruni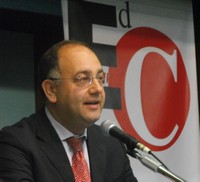 The most important thing about this EoC 2011 Assembly is our presence here, our gathering together in a big number in the place where EoC began, and our saying together that EoC is alive, that we want to commit ourselves, all together and even more, so that its prophecy, the prophecy of Chiara, becomes each day and ever more a piece of history. It is never an ordinary or obvious matter to gather together and to celebrate something alive and vibrant twenty years after its birth. Without the faith, hope and love of many of you (and of many who are not here with us) perhaps today, after twenty years, we could have celebrated just something prophetic, but which didn't work out in history.
Instead we have come here to tell one another, like the first apostles, the fruits borne during these past twenty years by this lay evangelization in the economic and social world: meaning to say that the EoC is alive and that we want to continue to believe in its prophecy, and for this reason we want to welcome the new challenges and try to give an answer to many existing questions.
So the first word that comes to my mind in opening this Assembly is joy, gladness, celebration, happiness: this Assembly shall be first of all and above all a community celebration, the feast of a people which believes that it is possible to love and serve our society and our people by giving life daily to an economy and to business enterprises which are different and which consider this to be their specific vocation.
But right after the celebration, or during the celebration itself, comes a second word, which is responsibility. We are celebrating this twentieth anniversary of the EoC in a particular moment of the economic and social world, which is trying to get out (if it will ever get out) of the first great crisis of globalization, of a systematic, structural crisis, of an initial "heart attack" of the capitalistic system. This crisis is sending out many messages, but a strong and clear message is that the globalized economy creates enormous opportunities for making wealth. However it also produces new costs, among which is a radical uncertainty and fragility of the financial and economic systems, as well as stronger social imbalances. Crisis will be a structural part of the system we are creating, the rule, and not the exception, since it is the price we have to pay to the new economy. Crisis as a new common condition then creates problems of an ethical nature and in the aspect of justice because oftentimes its consequences are payed for by other social sectors, usually very poor, and not by those which have caused them. This is why the theme of social justice and communion is now also the dominant theme of the new economy; and it is not by chance that the Pope, in his Caritas in Veritate, mentioned the EoC as a pathway for today's economy. In the world there is an increasing intolerance against inequality, within a nation and among nations, as though the knowledgeable and global post-modern man, following the political democracy of our times, seriously begins to demand also economic democracy, and seems to realize, slowly and with great effort, that economic democracy is an essential part of political democracy. In fact the market, being an ambit of group life and upheld by the golden rule of mutual benefit, is not able to assure distributive justice. Rather, if in a certain sense it is not accompanied by other co-essential principles and institutions (like the gift), as time goes by the market tends to augment inequality. On one hand, the market is in fact the place of freedom and creativity on the basis of individual talents, and the talents are not evenly distributed among the people; on the other hand, in the market competition we do not all depart from the same point, and whoever possesses more at this time (resources, education, opportunity…) tends to posses even more in the future.
This celebration of ours and the joy of being here must therefore lead straightaway to the responsibility we have, as keepers of a charism which has something special to say also in the field of economic and social life, to do our part in this epochal challenge of our economic system. In fact, we must remember that right from the very beginning, in the DNA or inspiring spark of the EoC, there has been a global dimension. As Eli revealed to us in the interview she gave recently to Antonella Ferrucci, when Chiara was about to land in San Paolo, since her plane had to go around the city due to the air traffic, she saw the sky scrapers and the "crown of thorns" and she felt pushed to do something to change the development process, to look for a new way which would neither be capitalism nor communism; and not only to make the business enterprises more ethical and the businessmen more generous. Today, while we look at the past with gratitude and joy as well as with the hope of children who completely hope in the future (2031), we must keep in mind that in order to be faithful to the vocation of the EoC, while working in our business enterprises and in our environments, we must exert more and more effort to truly feel the suffering of our times, the "labour" of this system which could perhaps give life to that something new many are looking for, in which we must be in the frontlines together with many other travel companions. If we do not do this and if we limit our activities to our business enterprises and to our poor, we will not be faithful to the EoC vocation which certainly aims at changing the business enterprises, but as the proper way of contributing towards the transformation of the economic system, and therefore, of the world.
A third word is memory, this beautiful Biblical word, one of the foundations of our history. When the people of Israel lived strong moments, their departing point was always that of remembering that "we were slaves in Egypt" and that "we were freed and became a people", in a Covenant. And the harder the trials they lived, the more they turned to the resources of memory, especially that of the group, because it gave and gives meaning to the story being lived. To be here today means to remember, to recall (to bring back to the heart, as Chiara said), the fact that we are part of a sacred story, a Covenant (each time a charism arrives on earth the Covenant between God and humankind is renewed, and a promised land is foreseen), for the common good (that is, of all and of each one, ours too, collectively and individually). It means remembering that also the little things we feel we are bringing ahead in our daily undertaking are part of this story of salvation, of this Covenant, they are steps towards that "promised land" which the world today is waiting for.
To do this we must go back to that May 1991, above all to the "questions" raised by Chiara and her travel companions during that month. We will also look closely at the answers given to those questions which have come up in these first twenty years, knowing however that human experiences, especially charismatic ones, are lively and fruitful when they keep the questions ongoing and when they know how to change the concrete and historic answers; that is, if precisely to be faithful to the questions they have the courage to change the concrete and historic methods used in achieving the answers, methods which are necessarily incidental and transitory. It is therefore very important and necessary that here, at the Mariapolis Ginetta/Aracoeli, we return together, honestly and intelligently, to those founding and original questions of the "bomb" of 1991; and that we face, with the same intelligence and seriousness, some of the knots which the EoC is facing today, so as to eventually change some of the methods we tried to use in incarnating the EoC, if in case we notice that they are no longer up to the challenges posed by Chiara's questions in 1991. And this calling to mind will also be a bringing back to heart not only ideas, facts and inspirations, but also persons, faces and stories of those travel companions who have already reached that promised land we must continue to build here in this story. In order to listen once again to those questions, to understand them better, and thus change some of the answers given, we came to this place which was called Mariapolis Aracoeli in 1991, and to which Chiara then gave the name Ginetta, after Ginetta Calliari, one of the co-founders of the EoC. Without her heroic faith perhaps today we wouldn't be here to say that the EoC is alive. In the experiences born out of charisms, the geography has the same value as the story: the places speak words of truth and life. In order to truly understand the charism of St. Francis, sooner or later a Franciscan might have to visit Assisi and the Franciscan sites, since St. Damien and La Verna explain the charism just as the book Fioretti explains it. And if someone wants to know Gandhi and non violence in depth he must go to Gandhian sites. For this reason, already several years ago we decided to hold this meeting in the vicinity of the Mariapolis and of San Paolo, to be inspired also by the sites, the language, the Brazilian genius and the spiritual and social vocation of this people, with its co-essential role before, during and after May 1991.
Finally, a fourth word I would like to include in this introduction is hope, one of the cardinal virtues, in the sense that without this all the other virtues would not endure: without hoping, believing and loving, no project will ever work or bear fruit. Today we have the duty, but also the joy to hope, just like before and more than before, to hope in the human, spiritual, social and economic power of the project that has been entrusted to us. Many of us who are here today begun this adventure with Chiara, some right from that very first launching in 1991. Others arrived afterwards, and they came to know of the EoC from other witnesses, and if we are here, we are all co-founders of this project, we are an integral part and are co-responsible for the success and failure of the EoC. Chiara handed down to us an inspiration, a yearning, a hope, but she awaited and awaits that that inspiration of hers becomes history, thanks to the businessmen, economists, workers, scholars, professionals, consumers, investors, families, citizens who feel deep within themselves the calling (which signifies "vocation") to spend their lives so that also the economic world may be more united, just and fraternal, that it may be a place of human and spiritual excellence. This is why hope is a virtue that must be cultivated, nourished, strengthened, and chosen in moments of trial, in which the first to be undermined is hope. And to speak of hope means to speak above all of the young, who are not only the future, but a different way of looking at the present. It is also and above all for young people that we desired to put in the logo the year 2031, to make them feel EoC today, and not tomorrow, because a movement like ours without young people cannot exist. We would have wanted to give them more room in our program, but this was not possible. However they will be present in some of the crucial and symbolic moments of these five days.
With joy, responsibility, memory and hope, let us therefore begin these days of celebration and intense work, which will culminate in the day event of May 29 at San Paolo, another "theoforic site" of the EoC, an event which Providence allowed to fall right on a Sunday in this year 2011. We chose to call it "EoC Assembly", not congress or convention, because unlike conventions, the aim of the addresses to be given is that of dialogue. We will not present documents, themes or scientific reports but we will propose some points of reflection and pathways to follow during the mornings; longer and well-constructed in the four themes of the morning, shorter in the panel discussions of the second morning, three panel discussions organized according to the three pillars of the EoC: the business enterprise, poverty, and culture. The reporters are given the difficult task of not closing but opening conversations and at the same time of bringing the fruits of life and reflections of these first 20 years. We also included some experiences in the program but the objective we are proposing, as well as the challenge, is that of not setting the "talks (or chatter) of the scholars" against the experiences of life, but offering reflexive experiences and "good practices", as well as statements from scholars that are are a consequence of life and that make the facts speak out. I think that one of the strong points of the EoC, which makes it innovative and fascinating, is that it has never separated theory and life, culture and experiences, businessmen and scholars, economy and a wider reflection on social life.
Finally a big thanks to all those who in this more than one year of preparation worked hard and seriously, first of all here in Brazil, and in the various commissions throughout the world. Thanks to the Mariapolis that has welcomed us and a big thanks to all of you for coming over with a lot of sacrifices, some even heroic. And finally thanks to Chiara, who believed that even the economy can become a place of human and spiritual excellence, inventing the EoC for us. May we therefore experience extraordinary days of life, light, conversion, in order to leave this place happy, responsible, grateful for what we have received, overflowing with new hope and more radical than ever. In order for this to happen, the work and commitment of everyone and of each one is necessary, as well as the capacity to listen together generously and with a critical ear, feeling ourselves co-responsbile and founders of the EoC, aware that the maturity, growth, and faithfulness of the EoC to its vocation depends on everyone and on each one of us. Surely, we can make it.